Posted by Marijke van de Water on 2022 Jul 20th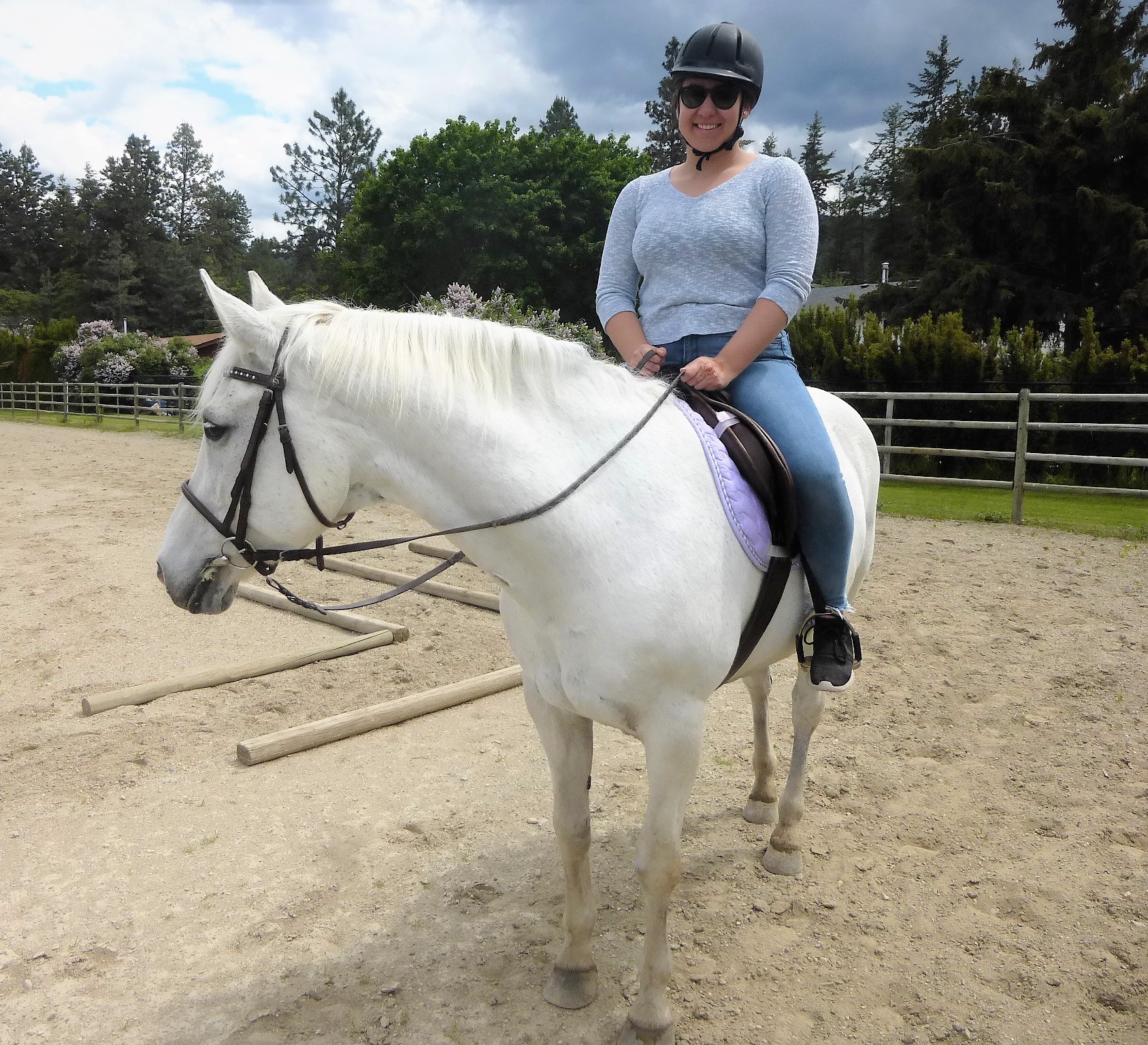 Grace's Sweet Relief
"For years my horse and I have struggled with her sweet itch. I thought we had tried pretty much everything to bring her relief. And then I saw a passing reference to the Riva's Remedies Sweet Itch Summer Tincture and Vitamin C. I ordered it, got it, and the results were almost instant. Not only is the sweet itch under control, but Grace is clearly happier and healthier. What a relief – for both of us! So grateful, thank you!"

---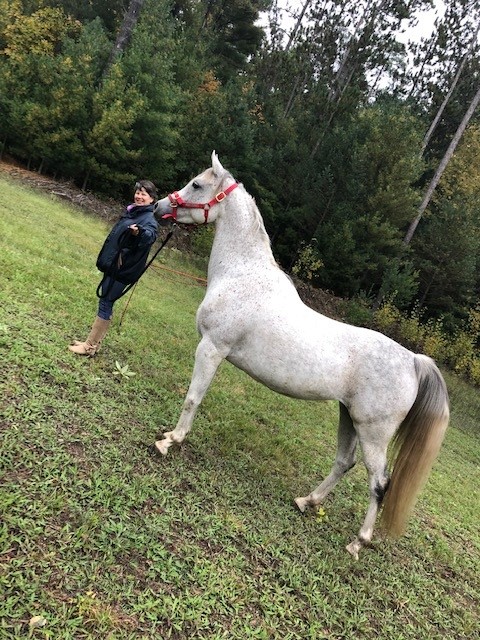 "I am so impressed and LOVE my Riva's Remedies herbs and so does my horse Greycie, that I just have to gush a bit and want to share with everyone! She had a sore back, and I had an Ultrasound done to see, and guess where it started … in her hormones! Once she was on the Herbal Blend for Mares NO more sore back! It is a wonderful correlation to see just how important the horse's hormones really are!" ...Tia






---
21-Year-Old Canella Climbs the Hills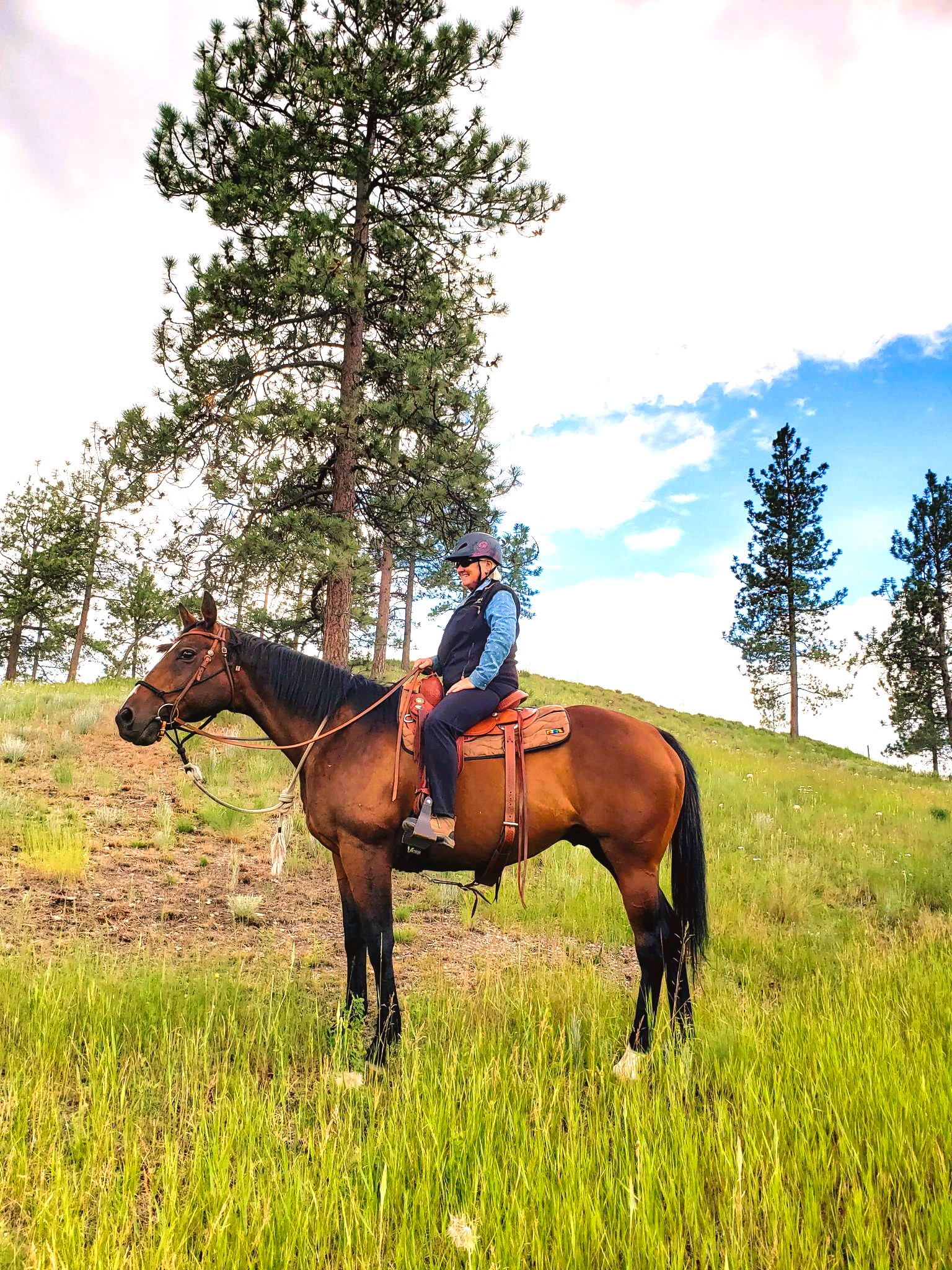 Karen is a valued member of our organization and has a nifty way of using our products, especially with her own horse Canella.
"I just have to share…for the last 5 days I've been giving my 21-year-old TB gelding some of the Performance Plus Herbal Blend. I was wanting to increase his energy for riding up and down the hills in our area that are fairly challenging. I hadn't used the Performance Plus this year yet because I didn't think that he needed it. Hah, what do I know! On just half a tablespoon per day he was like a Mack truck out there…gaaah, so much fun! It was like riding a 2-year-old on the track like I used to." "And not only that, but he was having some idiopathic headshaking problems going on this spring, so I started him on the Summer Tincture and Vitamin C. And now his headshaking has completely stopped!" …Karen M. (Merritt, B.C.)
---
"The Riva's Summer Tincture has helped my horse with her allergies. She used to rub her belly raw on the bushes, we couldn't ride her during the summer as the girth was too uncomfortable for her. Since starting to use the Summer Tincture she is SO much happier." Constance N

---
Circu+Plus for Laminitis
In October of 2016, my mare Chexy came up lame. Her feet were sore and she could barely walk. There were no signs at all on the days or weeks prior, so I called the vet who confirmed that she was in the early stages of laminitis.
I tried her on Bute for only 3 days along with some ulcer paste, as she doesn't do well on non-steroidal anti-inflammatories. I also wrapped her feet in foam and vet wrap to keep her comfortable. Then I remembered that Riva's had a new product out called Circu-Plus, so I immediately ordered that along with some Vitamin B6, and also the Pro-Colon probiotics to keep her gut happy given the medications. After being on the Circu-Plus for only a couple of weeks, she was feeling so much better and she went on to make a full recovery. She was back out with my other horse and feeling great!
I was still checking her feet for heat, and her fetlocks for the digital pulse daily (and even for quite a while after) and there were no signs of any laminitis. I continued the Circu-Plus until it was gone and she hasn't had another flare up since!
...... Kelly D & Chexy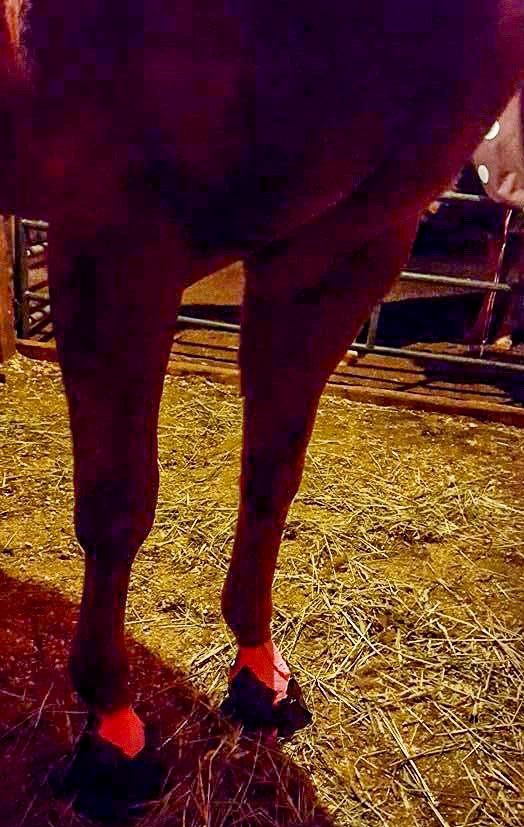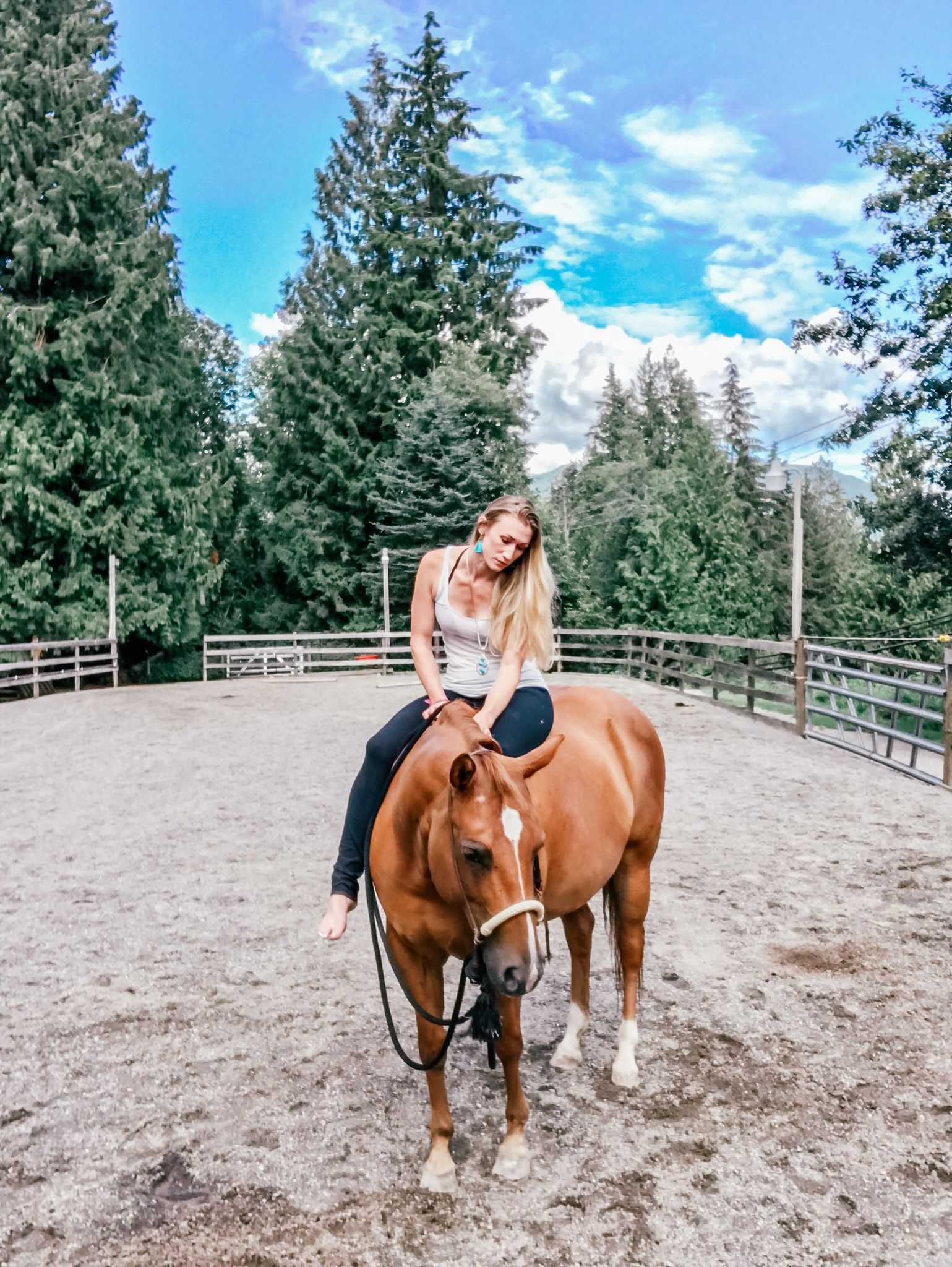 ---
Insulin Resistant Angie Loses Weight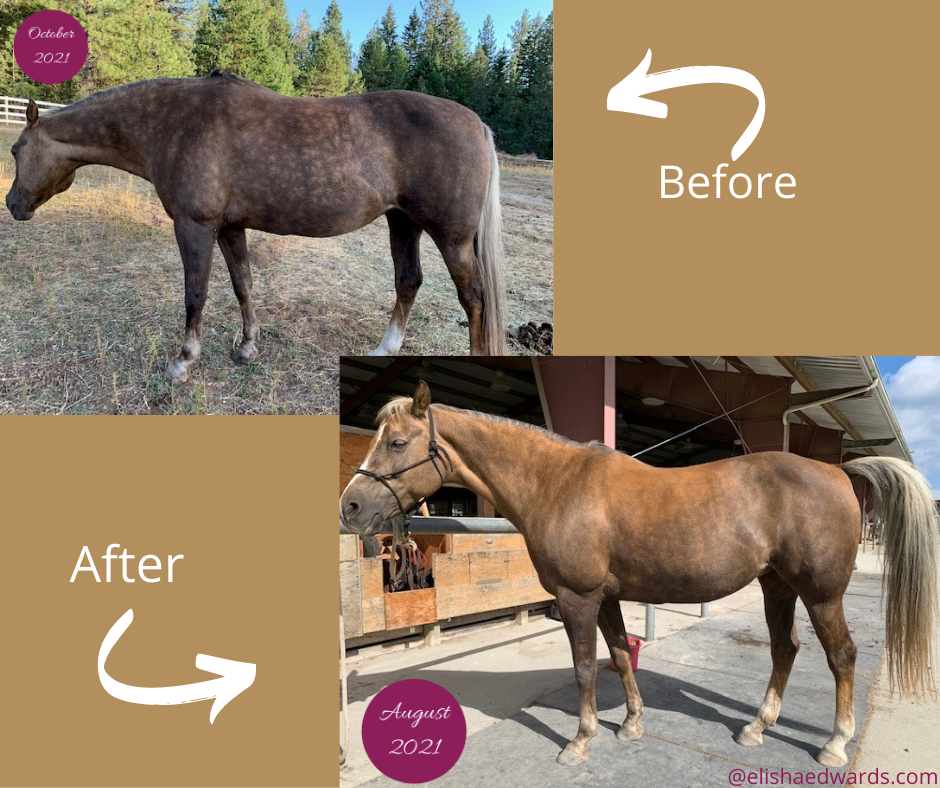 This is Angie; a 16-year-old Morgan mare. When Angie's owner originally contacted us, she wanted to improve many aspects of her health. Angie was Insulin Resistant and was also struggling with very poor digestion. She was feeling cranky and cinchy from digestive discomfort, and she was also stiff and stocking up. She was breathing rapidly at times and had gained a lot of weight. And she was having reactions to annual injections with localized swelling and swollen back legs.
Angie's first health program focused on starting her with general detoxification, balancing her blood sugar, and helping her digestive system heal.
Angie was already getting a lot of exercise, but her weight didn't change so we got started with a complete diet overhaul including a different kind of hay. We added more fibre to improve digestion and detoxification, as well as essential fatty acids to help with inflammation and hormone balance.
Angie started taking Pro-Colon probiotics (digestion), homeopathic Metabolism Drops (blood sugar), Equi-Cleanse herbal blend (liver support), and the nutrients Magnesium Citrate, Vitamin E, B6, and B12.
There were two or three more adjustments to Angie's program along the way and it took about 10 months for her to make the transformation to good health.
Angie lost weight including her crested neck, she was no longer stocking up, her breathing returned to normal, she wasn't cranky or cinchy, and her energy improved.
Congratulations Angie! You look like a brand-new horse!
---
Champ's Leg Wound

23-year old Champ somehow got an unexplained injury on his coronet band. But after 2 weeks on Vitamin C, the homeopathic Tissue Aid (formerly Infection Drops), and the Riva's Herbal Skin Oil applied topically his wound is nicely healed up!
---
Uveitis & Insulin Resistance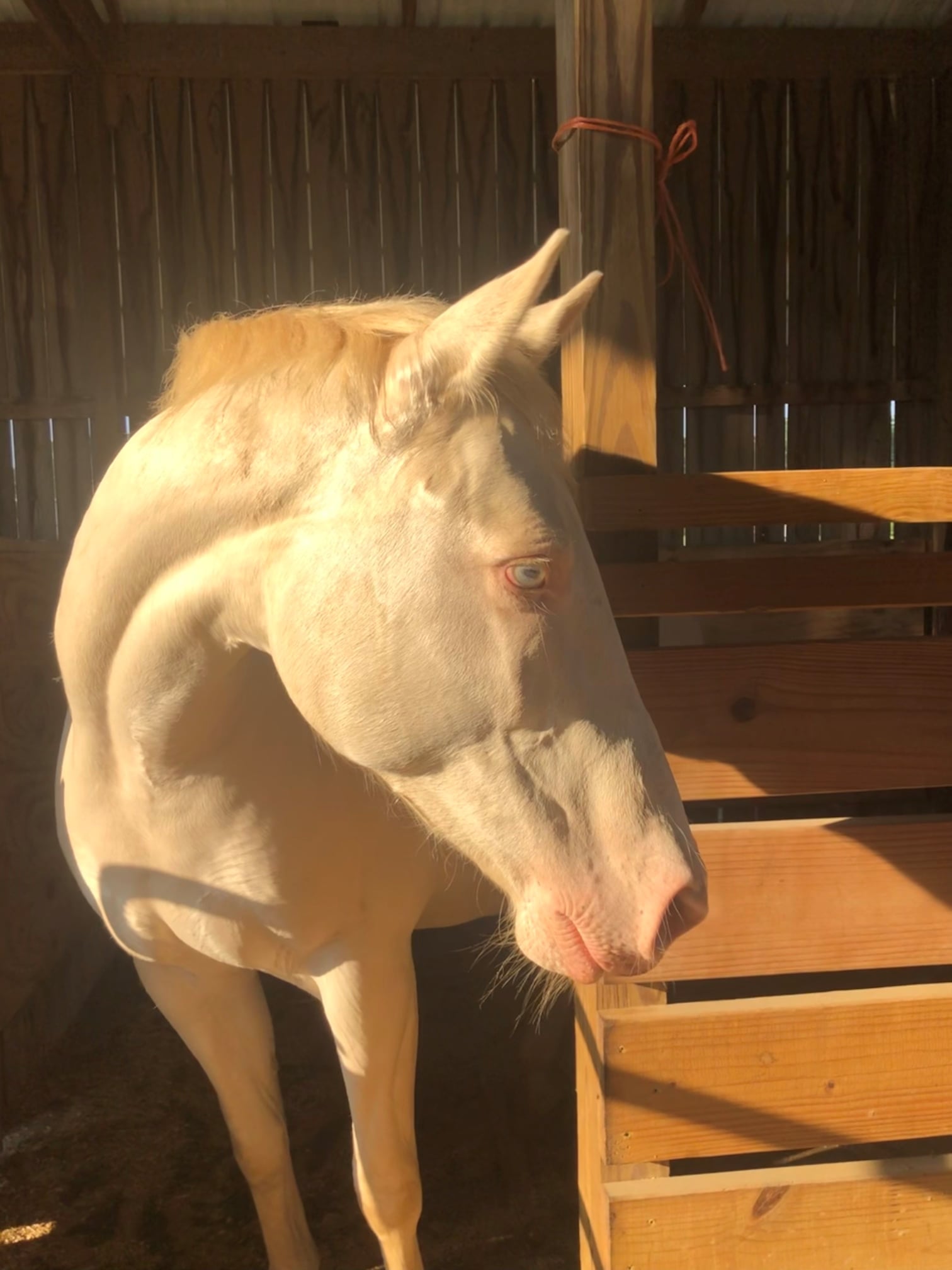 Cami is a 10 year old registered Oldenburg International Sport Horse mare from Alabama. She is the offspring to a buckskin and a cremello so her coloring is considered Perlino. You don't see one of these every day!
Cami's owner was concerned about her uveitis which was being managed with medication. Uveitis is an inflammatory disease of the eye that can cause light sensitivity, blurred vision, and eye pain. Cami is very light sensitive and wears a mask. Her eye condition was further complicated by cataracts (cloudy lens) which had developed three weeks after her annual injections.
Under Elisha's guidance the first step to helping Cami with her eyes was to identify and address all sources of inflammation. In Cami's case the biggest source of inflammation was high blood sugar because she was Insulin Resistant (IR); high blood sugar can degenerate all the tissues and vessels in the body including the small blood vessels in the eyes. So we put Cami on a metabolically friendly program to help regulate her blood sugar levels as well as her insulin while supporting her eye health with specific nutrients and antioxidants.
Cami started on her new program in May 2021, and fast forward to this October she has lost about 100 pounds. Her coat is shinier, she has less anxiety, her hooves are healthier, and the swelling in her udder has gone down significantly. Her owner has also been able to reduce her anti-inflammatories without any more flare-ups in her eyes.
And the best part is that we didn't have to restrict food (in fact she is eating more) even though she was on some pasture in the spring and summer. We can't wait to see how she does over the winter on her natural health program now that we have more control over her sugar intake and her nutrition. She is off to a great start and is looking fab!
---
Lady Overcomes Chronic Abscesses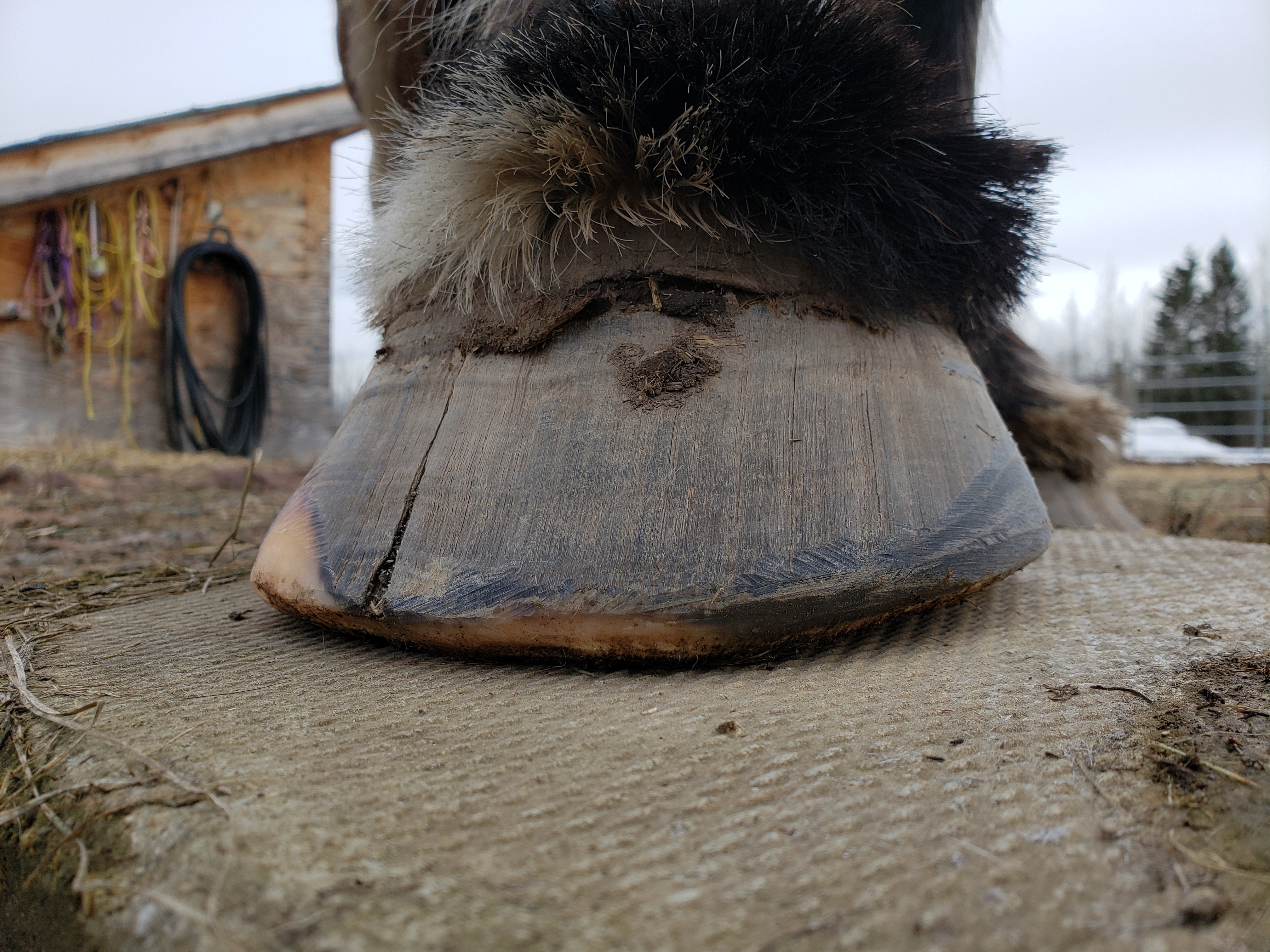 Lady is an 11-year-old Clydesdale mare. Lady came to Brittni in 2015 and Brittni soon learned that Lady's health wasn't that good and that she suffered from chronic hoof abscesses. She had an abscess every winter and then between October 2020 and April 2021 she had four more hoof abscesses. Each successive abscess was increasingly painful, and the February 2021 abscess broke out in 9 different holes above the coronet band. The abscess was also followed by a hard hot swelling. Brittni was initially worried that this was due to unhealthy bone changes.
Two of the 9 holes would not close or heal and these soft tissue wounds continued to ooze blood and pus. Brittni treated these with saline rinses, the homeopathic Tissue Aid, and then applied the Riva's Herbal Skin Oil. And every time she thought they were closing they would break open again, especially if Lady started running and bucking.
In addition, in the fall of 2018 Lady colicked after clover poisoning and developed neurological problems and a chronic cough which lasted all winter but improved by supplementing her with organic iron. Bloodwork confirmed liver damage. Lady also had a case of rain rot which was worse in late winter. Lady was also feeling quite depressed.
Lady's health and hooves were in poor condition due to systemic toxicity, weight gain, Insulin Resistance, nutrient deficiencies, and hoof pathologies including flaring, long toes, vertical cracks, and horizontal ridges.
Brittni is one of our Healing Horses Their Way course students and so she first took Lady off all grass and then she tackled Lady's hooves. This was done with a more balanced trim, and she did these trims on a more frequent schedule of every 3 weeks. Without local expertise, Brittni who had no previous experience trimming hooves, took on the task of learning how to trim Lady herself. She received online help from our inhouse barefoot hoof specialist, Jessica Fobert, and from her own reading material. And then she was able to attend a live hands-on course which helped her even more! The transformation in Lady's hooves over the next few weeks was amazing.
Alongside the improved hoof care, we put Lady on a full supplement program to support her hooves, her sugar metabolism, and her immune system. Lady was started on Bone-Up, copper, zinc, liquid silica, selenium, chromium, and molybdenum. Brittni also observed that Lady when given the chance was grazing on a lot of plantain and chamomile on her own.
Over the next few months Lady continued to make gradual progress with her improved diet and nutrition, and balanced hoof trims. She had fewer days of lameness but the soft tissue wounds above the coronet band were still open and a challenge. But Brittni learned that these were just a visual symptom of more serious internal issues.
So next we put Lady on the Equi-Derm herbal blend which contains Plantain, Chickweed and Calendula. These herbs support skin health and repair as well as general detoxification. In the first week that Lady started this herbal blend she actually developed another hole with fresh bleeding as her body was stimulated to release more toxins for a few days. But after that all of the wounds including the new one healed and closed over. Even when she ran and bucked! And not only that but the hard swelling softened up and disappeared. And her rain rot improved, and she is not nearly as itchy.
In the fall of 2021, Lady had not been lame in weeks, was moving very well, and was no longer depressed.
But then in November when the weather turned cold and the ground was frozen, Lady got very sore again and she started limping. It was apparent that the cold temperatures affected her hoof circulation by constricting her blood vessels and decreasing the delivery of important hoof nutrients. This is what happens to a lot of horses with "winter laminitis" and affects those who already have poor circulation and/or have unhealthy hooves that are not receiving a balanced trim.
And with the hard ground limiting overall movement compromised hooves become more toxic and undernourished resulting in soreness and increased inflammation.
So, next we put Lady on the Circu+Plus which contains Pine Bark Extract to increase the circulation and decrease inflammation, as well as Magnesium Citrate to relax the blood vessels and maintain blood sugar metabolism. Within 24 hours Lady was no longer limping. Still a little tender but much improved.
With good trimming, exercise, and optimum nutrition Lady will continue to progress until she is completely sound, healthy, and happy!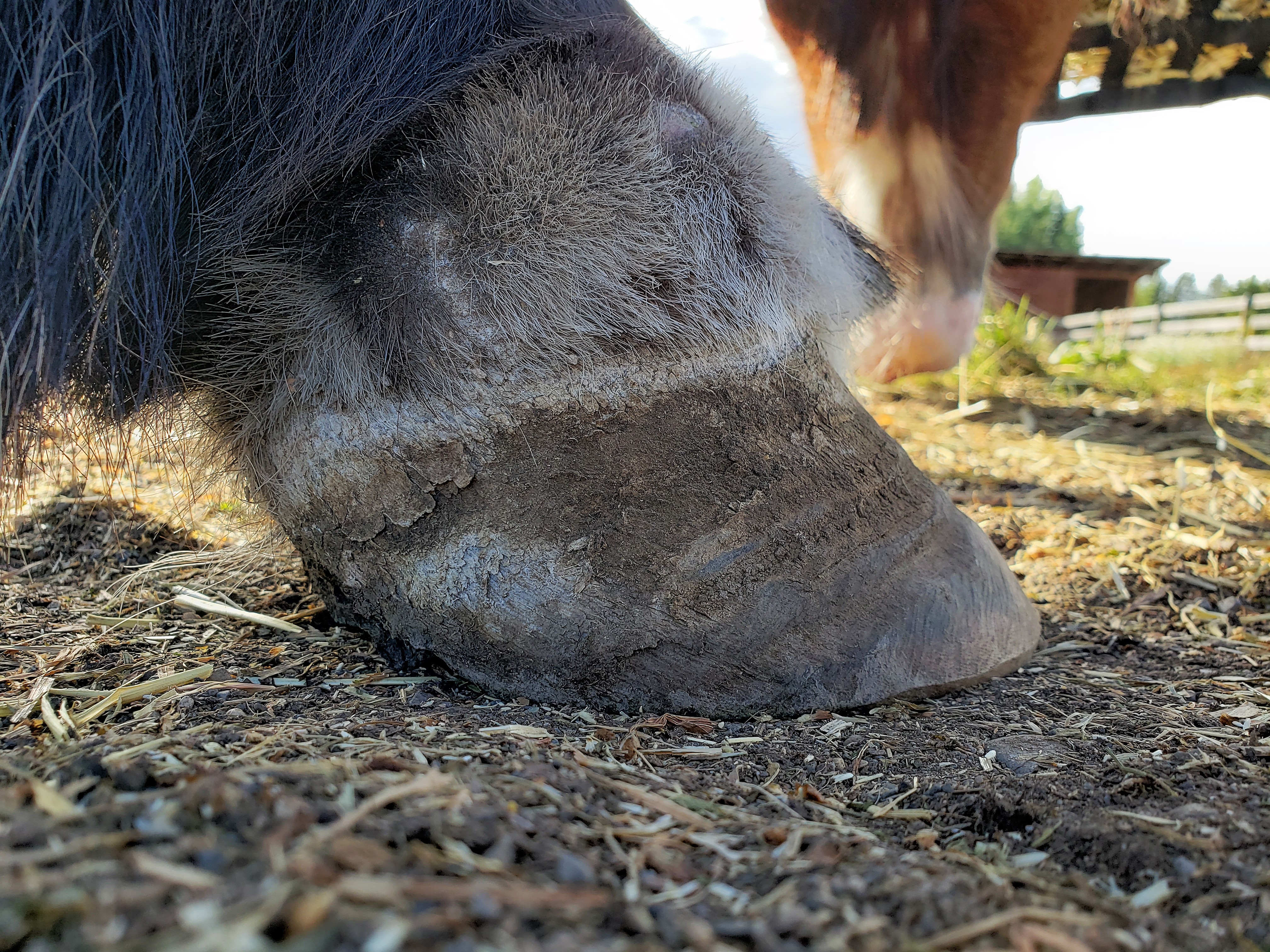 Brittni Friesen, October 2021
Links to more information:
Hoof Assessments: Riva's Hoof Assessment
Online Courses: Elisha Edwards
---
Cellulitis Success Story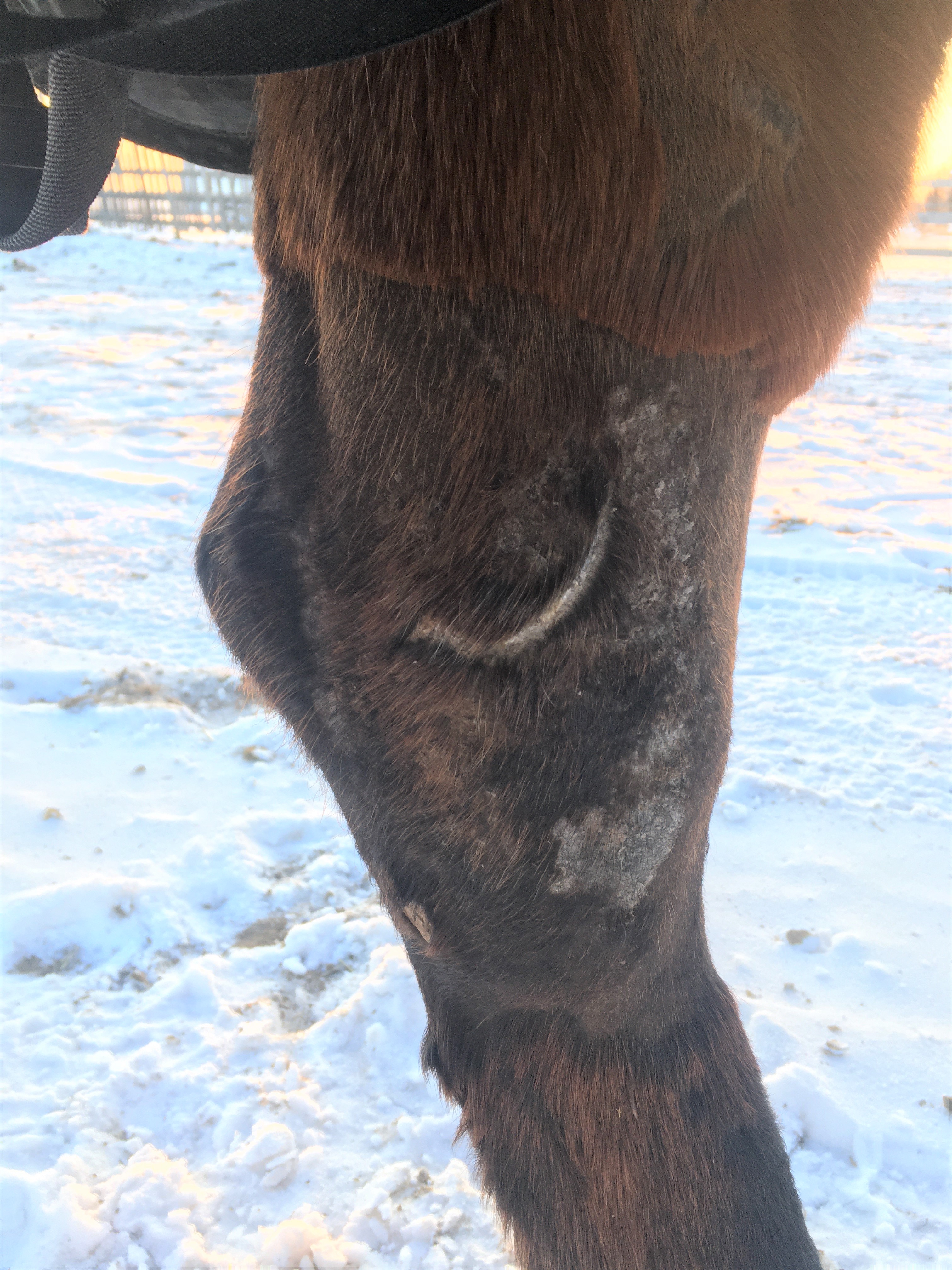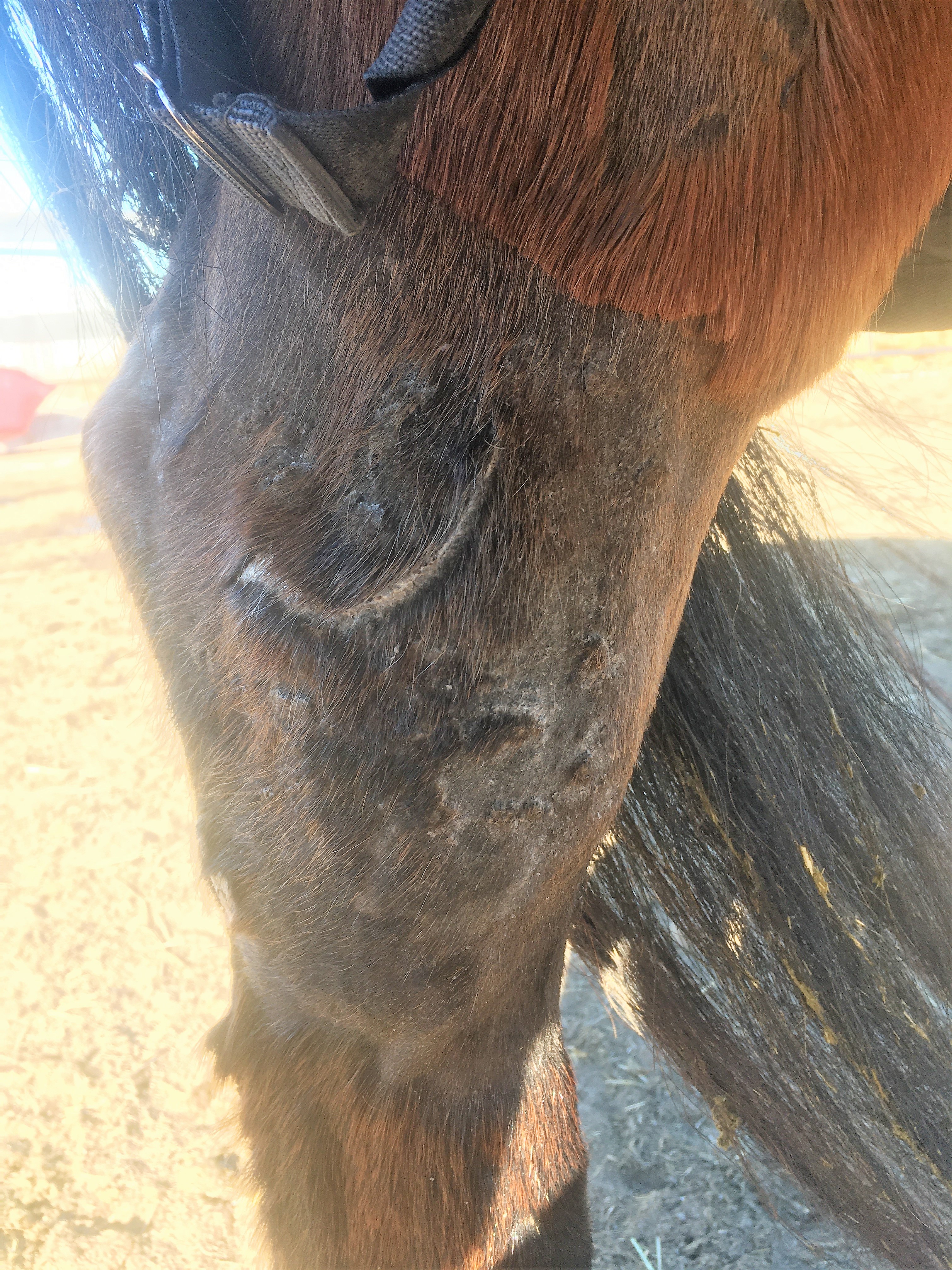 For those of you who have had horses with cases of cellulitis you know how much of a challenge it can be to resolve. It is also referred to as septic cellulitis because it is caused by a bacterial infection which mostly occurs in one of the hind legs. It presents with sudden swelling and is warm and painful to the touch. But with the right program the immune system can overcome the pathogens and heal the affected area. Remember, in the holistic model it is the terrain that is important, not the pathogen.
"In November 2020, my horse Mac suffered a serious cut to his right hind leg at the hock. He was treated with medication and the X-rays and Ultrasound indicated that he was expected to make a full recovery. He was not lame but then in January 2021 he broke out with a case of cellulitis.
So, I contacted Riva's Remedies who recommended to start him on the Equi-Boost herbal blend, Vitamin C, Infection Drops, and homeopathic Gunpowder (Carbon-Sulphur-Kali-Nitricum).
He started the program on Friday, January 29 th, 2021 and by the next Tuesday on February 02 nd I was excited to see that the swelling went down so much! And then the skin started to peel as part of the healing process. And his leg continues to heal." …A.S. (Alberta)
---
Lukka Chooses Herbs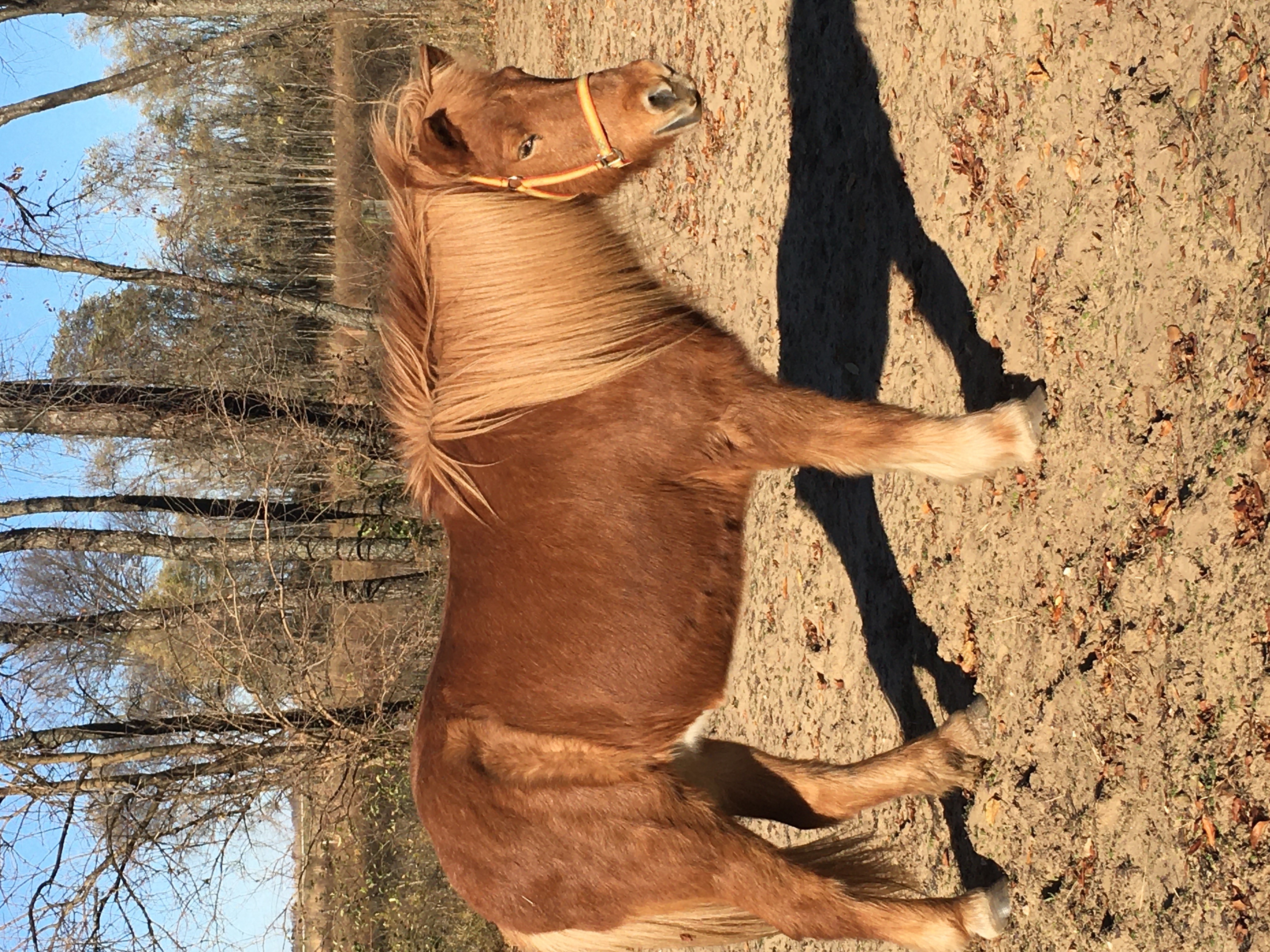 Lukka is a 20 year-old Icelandic who was diagnosed with Cushing's Disease (PPID) and was started on medication. So, I used the Hormone Boost herbal blend to supplement my horse's diet. After starting my horse on Hormone Boost, I was able to wean her right off the medication! ... Gerlanda M. (December 2020)
---
Oreo Loves Happy Foot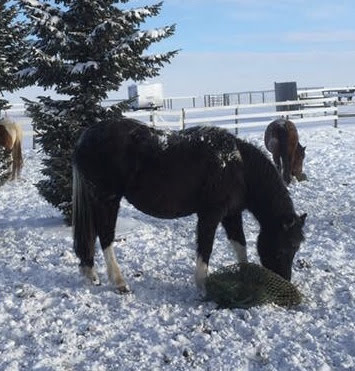 We are always amazed at the results that horses get with the Happy Foot Herbal Blend. It is blended to improve circulation, relieve pain, and provide specific nutrients to support hoof health. And yes, if you put your nose close the bag the cayenne pepper included in the blend will surely clear up some passages!
"My pony had severe laminitis and was at the point that the vet gave up. Happy foot helped her to get a lot better along with lots of walking. She ate it without any problem. And, it cleaned out my sinuses." …Baudina S.
---
No More Coughing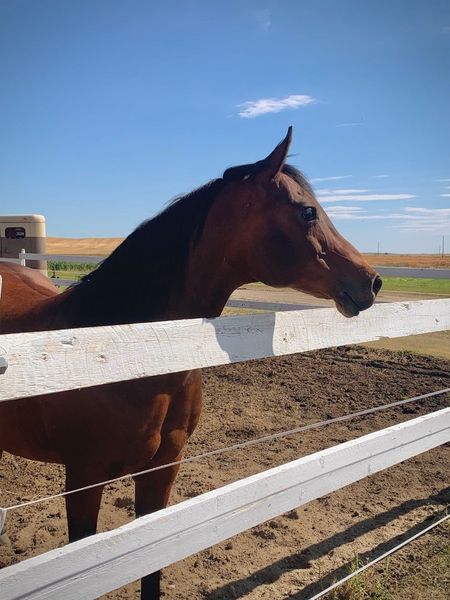 My IR Arab gelding has to be on hay in the summer and this spring he developed a bad cough. After trying other remedies and constantly soaking his hay, I decided to try Bronc-Aid. I also added Vitamin B6 and Magnesium to help his metabolism. Within I few weeks I was able to stop soaking his hay. By mid summer I was riding him again with no cough! I really believe these supplements made all the difference. ...Mary C.
---
Luke's Sarcoid Success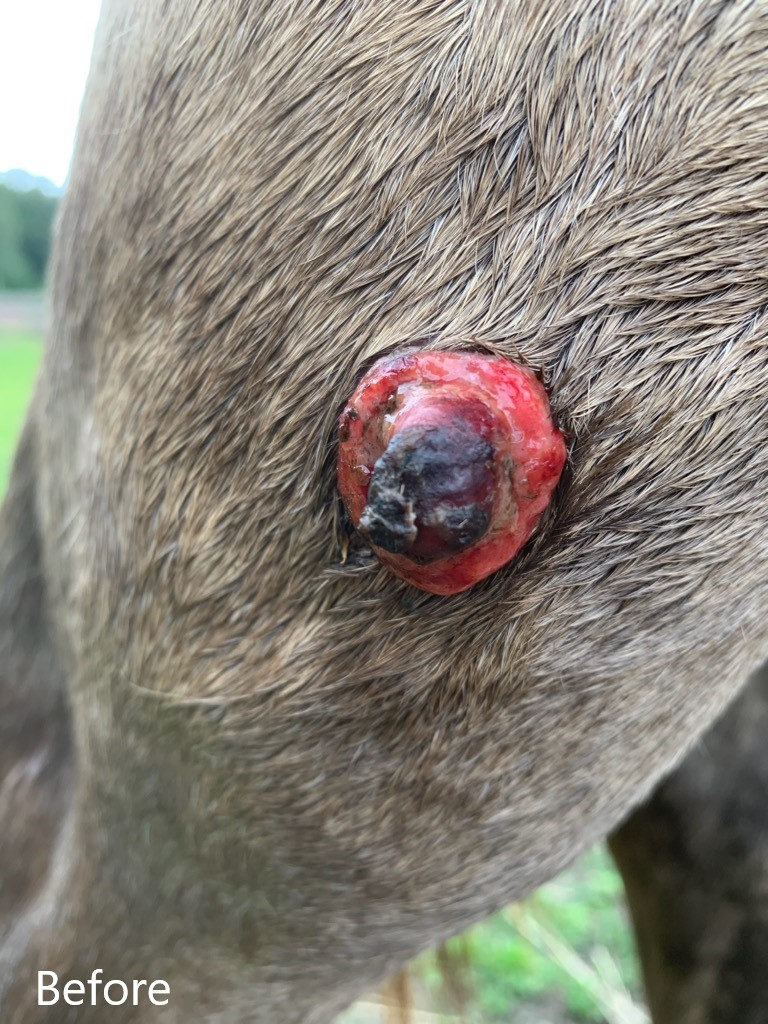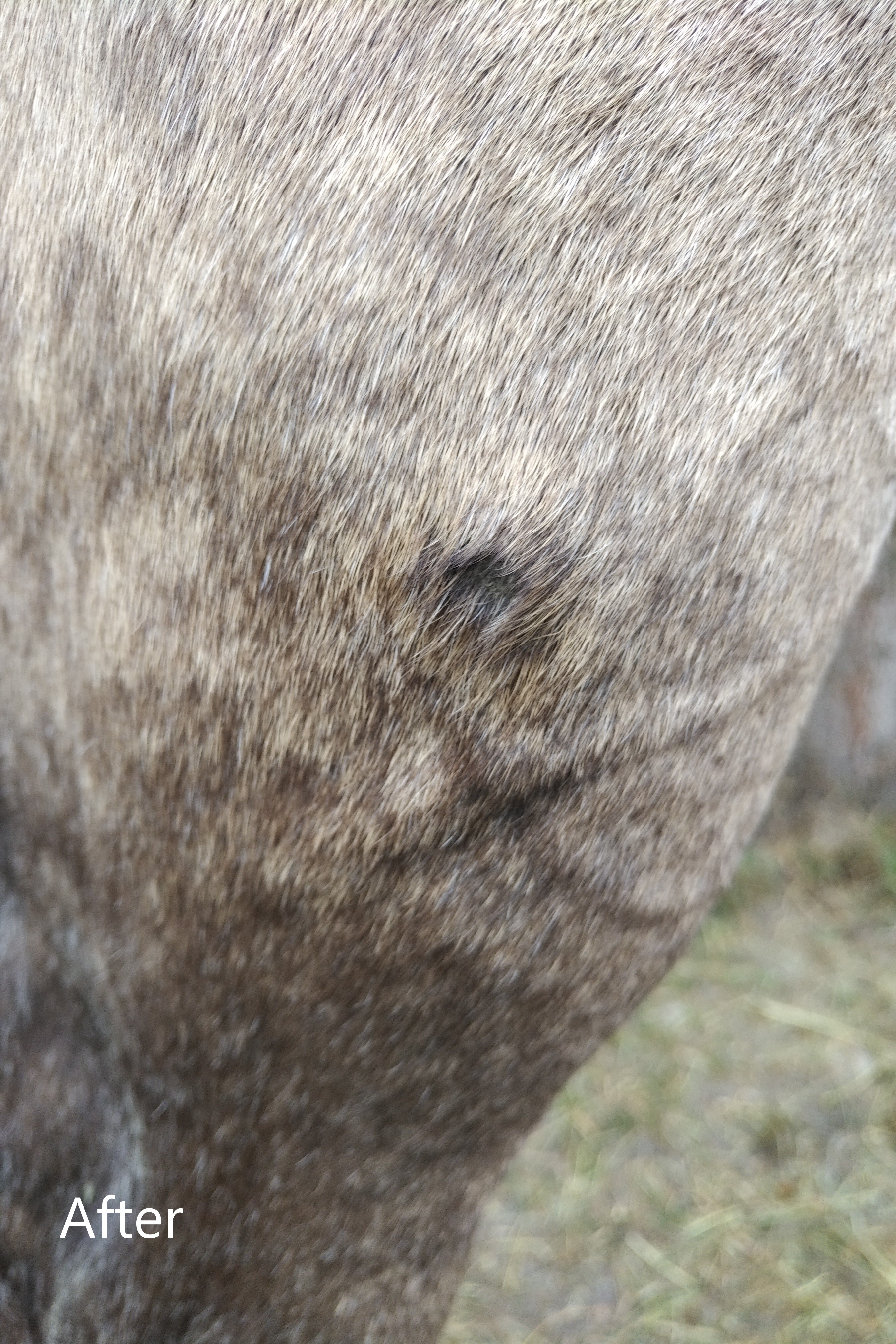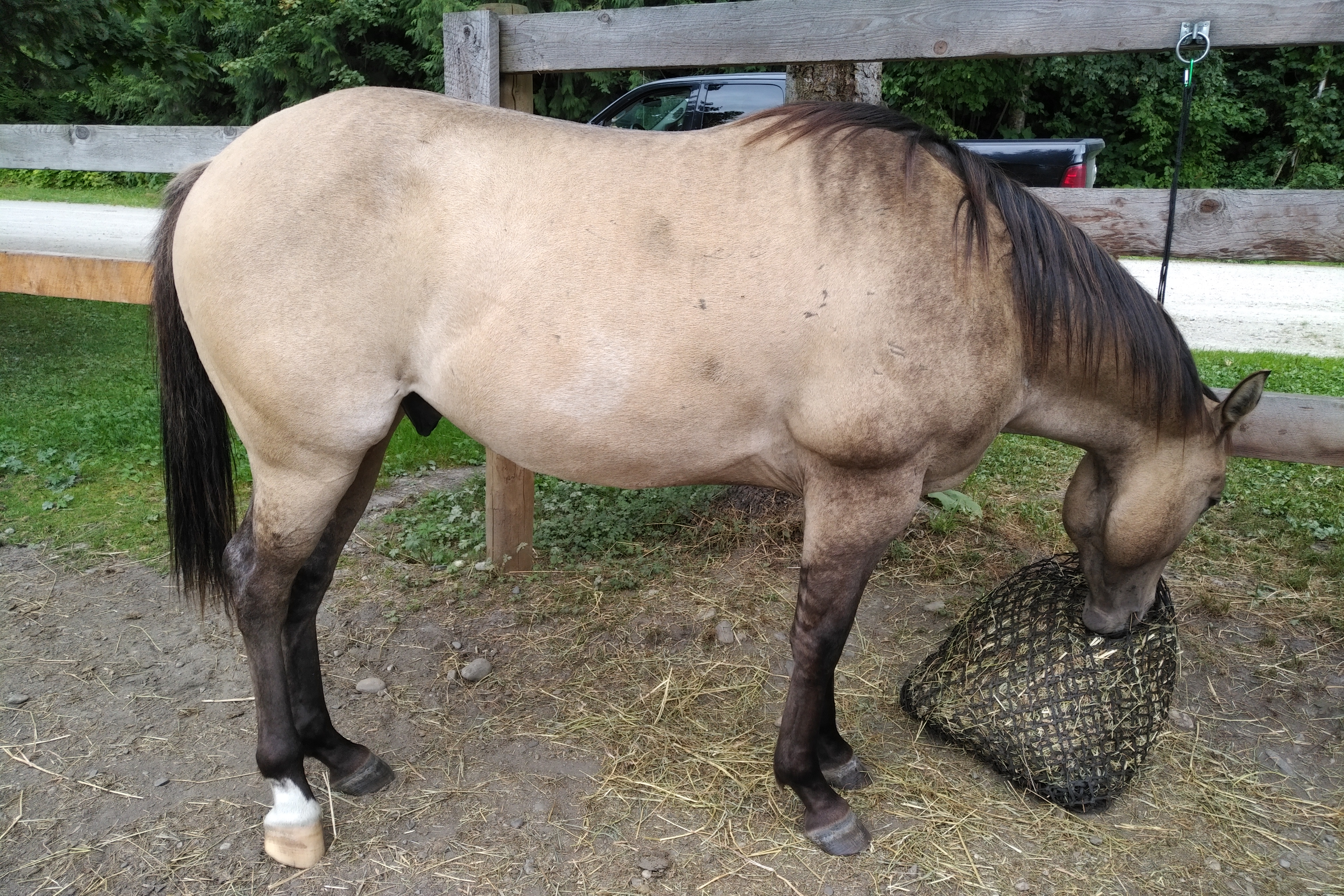 Luke is a young two-year old QH who had two sarcoids on his hinds. One of our course students, Kim Rienks, took on his case with amazing results. She put him on the Equi-Derm herbal blend as a cleanser and purifier along with Vitamin C to support his immune system. He was also given a course of homeopathic 5-Way Support to address any chemical toxicity from previous vaccinations. He started his program July 2020 and the after pictures were taken in September 2020. Nice hair coat Luke!
---
Honda Couldn't Sweat (Anhidrosis)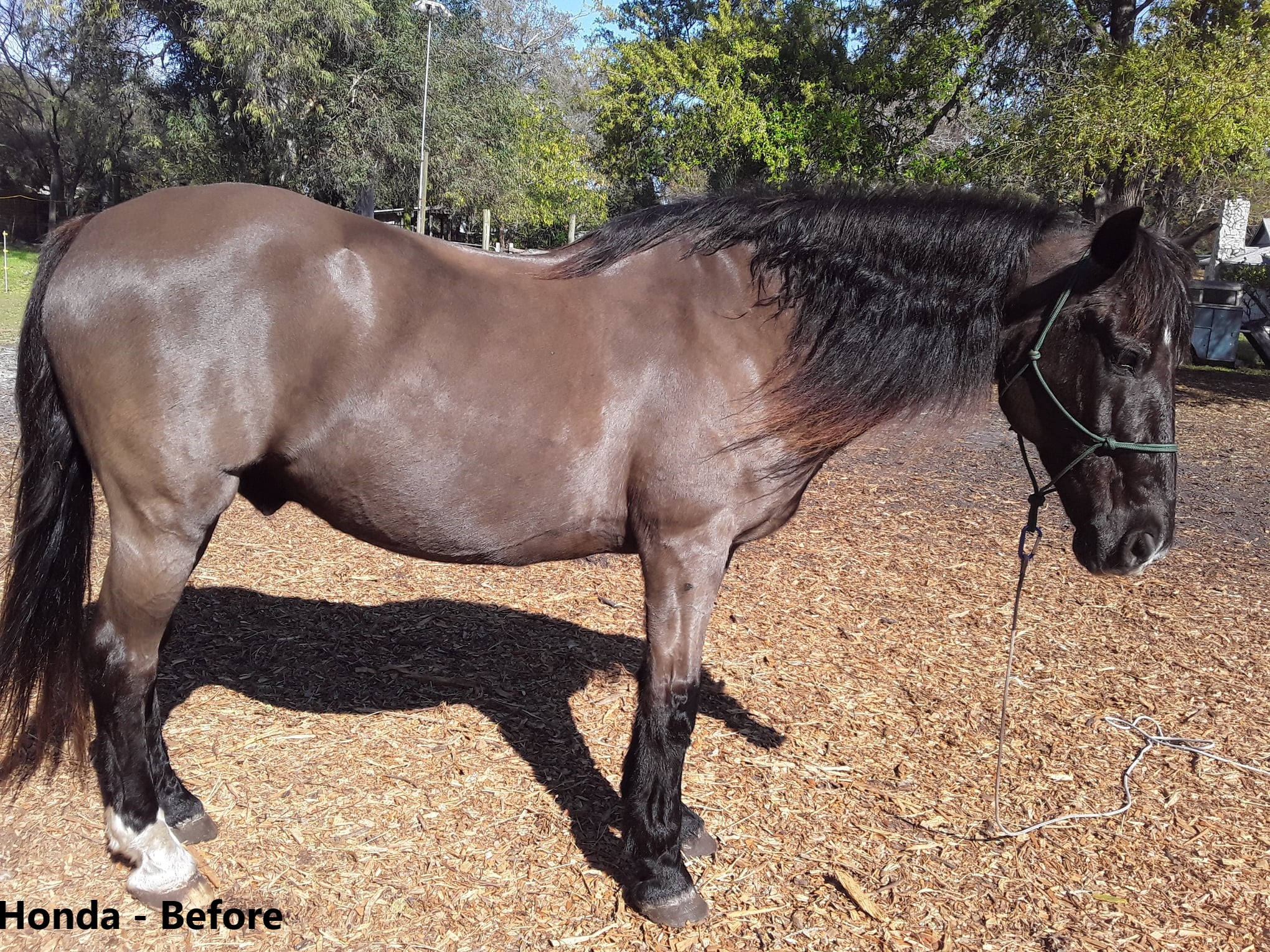 Honda is a 23-year old Canadian gelding with Anhidrosis. Anhidrosis is a metabolic condition that affects the internal thermostat. Horses with this condition are unable to sweat in a hot environment and are at risk for overheating. This was very concerning because Honda lives in Florida! Temperatures there can exceed 40C!
So Cori, Honda's parent, took one of our courses and started him on a natural health program to balance unhealthy sugar metabolism (Insulin Resistance) and to support his thyroid function. Cori reported back to us within the next few weeks and even though his journey isn't over, this just goes to show that even the most chronic conditions can be improved with the right combination of diet, nutrition, and natural remedies.
"The Healing Horses Their Way course has surely been effective! He had a little sweat under his saddle pad yesterday with lower humidity which has never happened before, so this is a great sign. He had more staying power on the trail too, so we are happy about that as well. His demeanor has changed - so much so that my husband even marvels about it. He doesn't drag himself across the paddock to the water and he walks with determination now!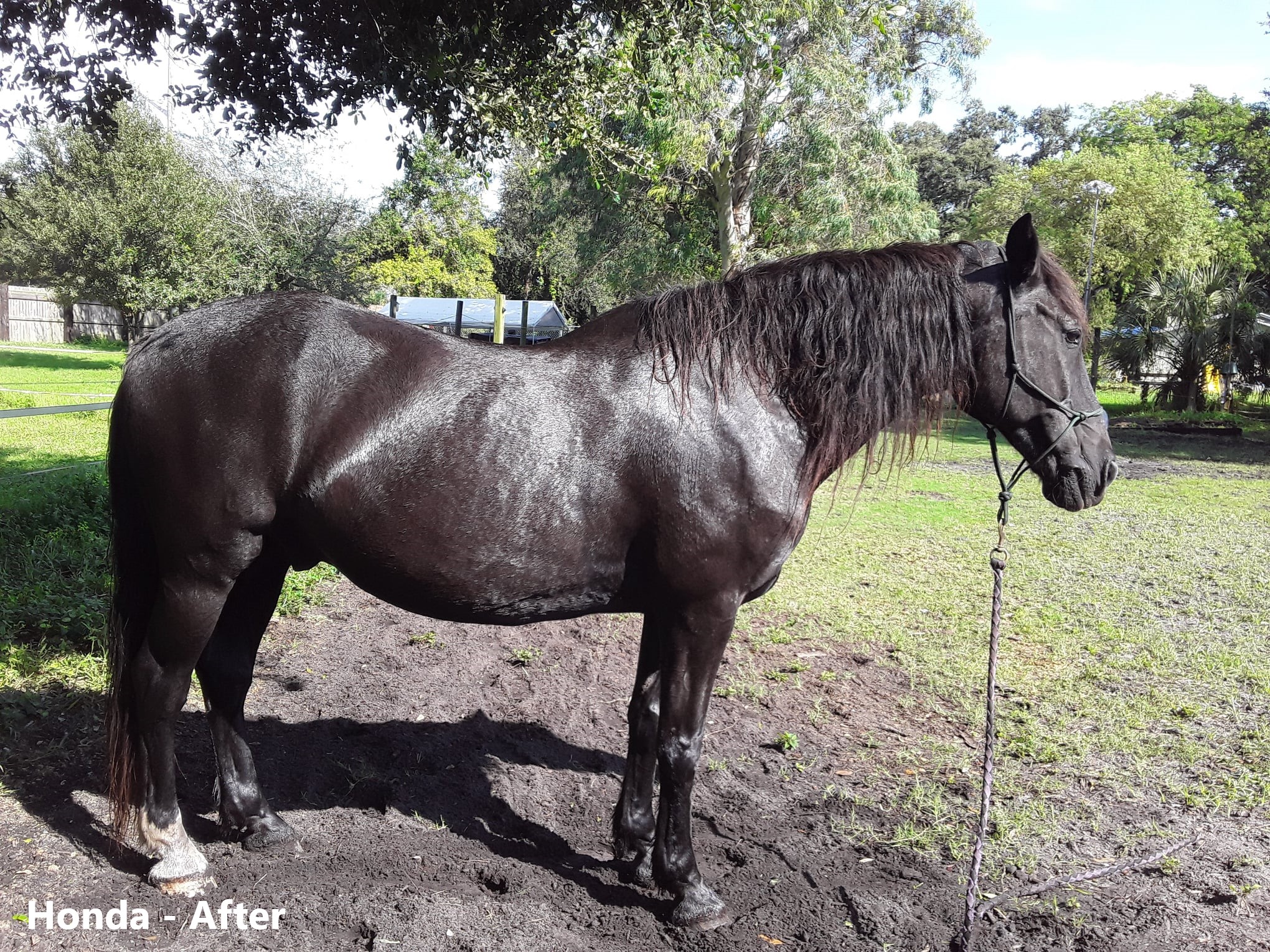 If you look really closely, you can even see a slight definition of his ribs now! Woo Hoo! The colour change is due to clipping.
I can't say that we are totally there yet with his energy levels and his ability to sweat but I keep reminding myself that he didn't get this way overnight, so patience is needed.
Thanks for all that you are doing! He seems like a different horse! It is like he has awakened from a deep sleep!" ...Cori


---
Bailey's Breathing Easy
Bailey had a bad case of heaves for nearly two years. So, she was started on the Iron-Up to support her immune system, energy levels, and resistance to infections. Iron maintains the liver's ability to detoxify, improves blood cell formation, and promotes healthy circulation.
Bailey's owner tells is that " I had absolutely amazing success with the Iron-Up to help my horse Bailey with heaves. It was incredible how well she did". ...Emily M.
She kept Bailey on the Iron-Up for one year and then reduced the dosage to maintenance.