Horse Health Consultations
Riva's Remedies offers a variety of comprehensive health services for horses. The following services are provided by Marijke van de Water, B.Sc., DHMS. She is an Equine Health and Nutrition Specialist as well as the founder and formulator of Riva's Remedies. Each service will provide a complete written report with a specific program based on your horses individual set of requirements. All of our services are provided remotely so you can take advantage of them no matter where you live – no hauling required! See the options below to choose the most suitable one for you and your horse. If you need help with your selection, please feel free to contact us.

Complete Health Consultation
Our comprehensive health assessments are for horses who are challenged by chronic or more complex health conditions such as laminitis, Equine Metabolic Syndrome, long-term joint or hoof pain, unsoundness, digestive conditions, fatigue, poor performance, immune disorders, chronic skin problems, and/or respiratory problems.
---

Hair Tissue Mineral Analysis
A hair tissue mineral analysis is an accurate and comprehensive lab test that uses atomic absorption methods to identify your horse's mineral and nutritional imbalances. Each hair analysis tests the values of over 30 minerals and elements, 8 toxic heavy metals and 15 mineral ratios. A hair analysis is also an accepted method to determine the level of several toxic heavy metals such as lead, mercury, aluminum and arsenic. Toxic heavy metals are very destructive and routine blood tests cannot detect chronic heavy-metal poisoning.
A hair analysis can also reveal a variety of health conditions including adrenal dysfunction, thyroid and pituitary dysfunction, liver and kidney health, certain digestive issues, blood sugar imbalances, metabolism, anemia and inflammation.
---

Parasites
Horse owners typically have a lot of questions about the best worming protocol to use for their horse and whether or not their current programs are working. Do I need to de-worm? What de-wormers should I use? Are my natural de-wormers doing the job? How often should I deworm? Does my horse have encysted parasites?
In addition, increasing numbers of horses are becoming resistant to the same chemical dewormers, or are having reactions to the chemicals themselves. To help you eliminate the guesswork, we offer parasite assessments to customize your de-worming programs specific for your horse.
---

Hoof Assessments
Are you unsure about whether or not your horse is receiving a suitable or an appropriate trim? Are you wondering if your horse's hoof health is contributing to their chronic problems including laminitis? The majority of unsound horses are not receiving the hoof care or the correct trim that they need to recover. By arranging for a hoof assessment, you will have a thorough understanding of the condition of your horse's feet, determine what kind of pathologies are present, and what kind of care they are needing to become sound again.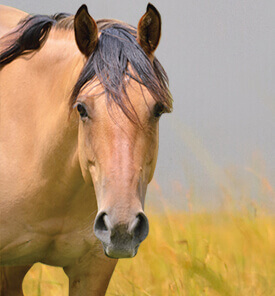 Whisper, who showed bad founder issues, is a "miracle story" according to my farrier. In large part this is due to Marijke's guidance and I will also say that after all the help last summer/fall every one of the herd showed great results from their regiment that Marijke provided. ... Tina T. (Ontario, Canada)