Dog Health Consultations
Riva's Remedies offers two different comprehensive health services for dogs. Both are provided by Marijke van de Water, B.Sc., DHMS, a Canine Health and Nutrition Specialist as well as the founder and formulator of Riva's Remedies. Each service will provide a complete written report with a specific program based on your dogs individual set of requirements. All of our services are provided remotely so you can take advantage of them no matter where you live. See the options below to choose the most suitable one for you and your dog. If you need help with your selection, please feel free to contact us.

Complete Health Consultation
Our comprehensive health assessments are for dogs who are challenged by chronic or more complex health conditions such as skin allergies, Cushing's Syndrome, digestive conditions such as pancreatitis, long-term joint pain, fatigue and immune disorders.
---

Hair Analysis
A hair tissue mineral analysis is an accurate and comprehensive lab test that uses atomic absorption methods to identify your horse's mineral and nutritional imbalances. Each hair analysis tests the values of over 30 minerals and elements, 8 toxic heavy metals and 15 mineral ratios. A hair analysis is also an accepted method to determine the level of several toxic heavy metals such as lead, mercury, aluminum and arsenic. Toxic heavy metals are very destructive and routine blood tests cannot detect chronic heavy-metal poisoning.
A hair analysis can also reveal a variety of health conditions including adrenal dysfunction, thyroid and pituitary dysfunction, liver and kidney health, certain digestive issues, blood sugar imbalances, metabolism, anemia and inflammation.
---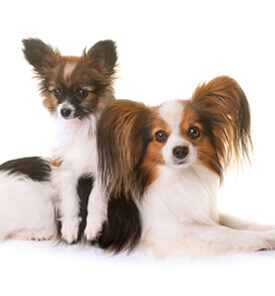 I spent a lot of money on holistic vets, special diets, and other remedies for my dog's skin rash and environmental allergies so I wish I had found Riva's Remedies three years ago! We started him on a new diet program, corrected his nutritional deficiencies, and added specific herbal remedies. Marijke will be my go-to for any of the other dogs, my horses, or myself if the need arises. ... Crystal M. (Ontario, Canada)